Radiology Information System Market, Size, Global Forecast 2022-2027, Industry Trends, Share, Growth, Insight, Impact of COVID-19, Company Analysis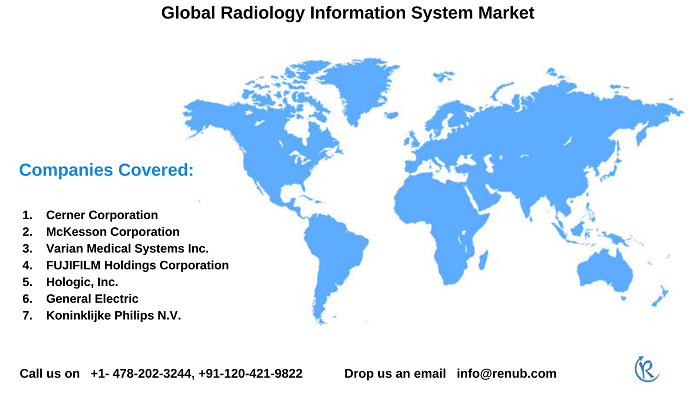 Global Radiology Information System Market is expected to reach US$ 1,388.5 Million by 2027 due to increasing number of cancer cases
According to Renub Research latest report by titled "Radiology Information System Market, Size, Global Forecast 2022-2027, Industry Trends, Share, Growth, Insight, Impact of COVID-19, Company Analysis," Radiology Information System Market will reach US$ 1,388.5 Million in 2027. According to Globocan, 19,292,789 new cancer cases and 9,958,133 deaths from cancer were reported in 2020. An upsurge in cancer cases will focus on radiology services for a proper diagnosis to derive the market demand for radiology information systems. Furthermore, the RIS is a computer system that delivers business analysis and an effective strategy in the radiology department. The system supports dealing with all the department's business functions, from patient management and accounting to inventory control. These systems are easy to utilize and are simply accessible. In addition, they offer benefits like reliability, high security, and privacy, and only authorized users can access them.
Radiology Information System Market was US$ 843.9 Million in 2021:
The drivers for the growth of the RIS market include:
• Improved access to healthcare information technology systems.
• The increasing incidence rate of chronic diseases.
• The rise in government funding for cancer-related research.
Moreover, the burden of chronic diseases is increasing across the globe, along with the growing aging population, and lifestyle-related disorders, such as arthritis, cancer, cardiovascular, and diabetes, are some of the primary issues responsible for the growth of this market.
The Integrated Radiology Information System is Expected to Witness High Growth over the Forecast Period:
The radiology information system market is segmented by type. It includes Integrated Radiology Information System and Standalone Radiology Information System. The Integrated Radiology Information System segment is expected to grow at the highest CAGR during the forecast period.
By deployment mode, it is segmented into web-based, on-premises, and cloud-based. The web-based segment accounts for siginificant segmental revenue in the Radiology Information Systems market in 2021. Web-based RIS is developed to help link patient information to any desired destination to grow clinical and business needs around the continuum of care.
Request a Free Sample Copy of the Report: https://www.renub.com/request-sample-page.php?gturl=radiology-information-system-market-p.php
Radiology Information System Market Size is likely to expand at a CAGR of 8.65% during 2021 – 2027:
Depending on geographic regions, the demand for radiology information systems is segmented into North America, Europe, Asia Pacific, and Middle East & Africa. North America has the greatest market for the sales of radiology information systems and is providing the most compared to other regions. This is owing to the enhanced demand of the diagnostic industry to get faster, better, and more effective results.
COVID-19 Impact:
COVID-19 had a significant impact on the radiology information system industry. In April 2020, as per the article "Impact of COVID-19 on Radiology Practices," published in the Radiological Society of North America, the policy measures approved to slow the transmission of COVID-19 reduced the need for imaging services.
Follow the link for the full report with detailed TOC and list of figures and tables: https://www.renub.com/radiology-information-system-market-p.php
In addition, the guidelines from the CDC (Centres for Disease Control and Prevention) to postpone emergency outpatient visits during the pandemic significantly impacted screening services like lung cancer screening and mammography, and the effect has been observed across the radiology sector. This will likely impact the demand for RIS as they are used to analyse data from radiology units.
Competitive Landscape:
The key market players in the radiology information system market are Cerner Corporation, Mckesson Corporation, Varian Medical Systems Inc., Fujifilm Holdings Corporation, Hologic, Inc, General Electric, and Koninklijke Philips N.V.
Browse Related Report:
Cardiac Bio Implant Devices Market: https://www.renub.com/cardiac-bio-implant-devices-market-p.php
Ophthalmic Device Market: https://www.renub.com/ophthalmic-devices-market-p.php
About the Company:
Renub Research is a Market Research and Consulting Company. We have more than 10 years of experience especially in international Business-to-Business Researches, Surveys and Consulting. We provide a wide range of business research solutions that helps companies in making better business decisions. We partner with clients in all sectors and regions to identify their highest-value opportunities, address their most critical challenges, and transform their businesses. Our wide clientele comprises major players in Healthcare, Travel and Tourism, Food & Beverages, Power & Energy, Information Technology, Telecom & Internet, Chemical, Logistics & Automotive, Consumer Goods & Retail, Building, and Construction, & Agriculture. Our core team is comprised of experienced people holding graduate, postgraduate, and Ph.D. degrees in Finance, Marketing, Human Resource, Bio-Technology, Medicine, Information Technology, Environmental Science, and many more. Our research helps to make business decisions: on strategy, organization, operations, technology, mergers & acquisitions etc. We support many blue chip companies by providing them with findings and perspectives across a wide range of markets. Our research reports offer a blend of information insight, analysis, and forecasting that is essential in today's ultra-competitive markets.
Media Contact
Company Name: Renub Research
Contact Person: Rajat Gupta
Email: Send Email
Phone: 6783020700
Address:Roswell, GA 30076 http://www.renub.com/
City: Roswell
State: GA
Country: United States
Website: radiology-information-system-market-p.php