GCPIT South Africa honours twenty women entrepreneurs with BrandAfrica: Women in Business Awards 2021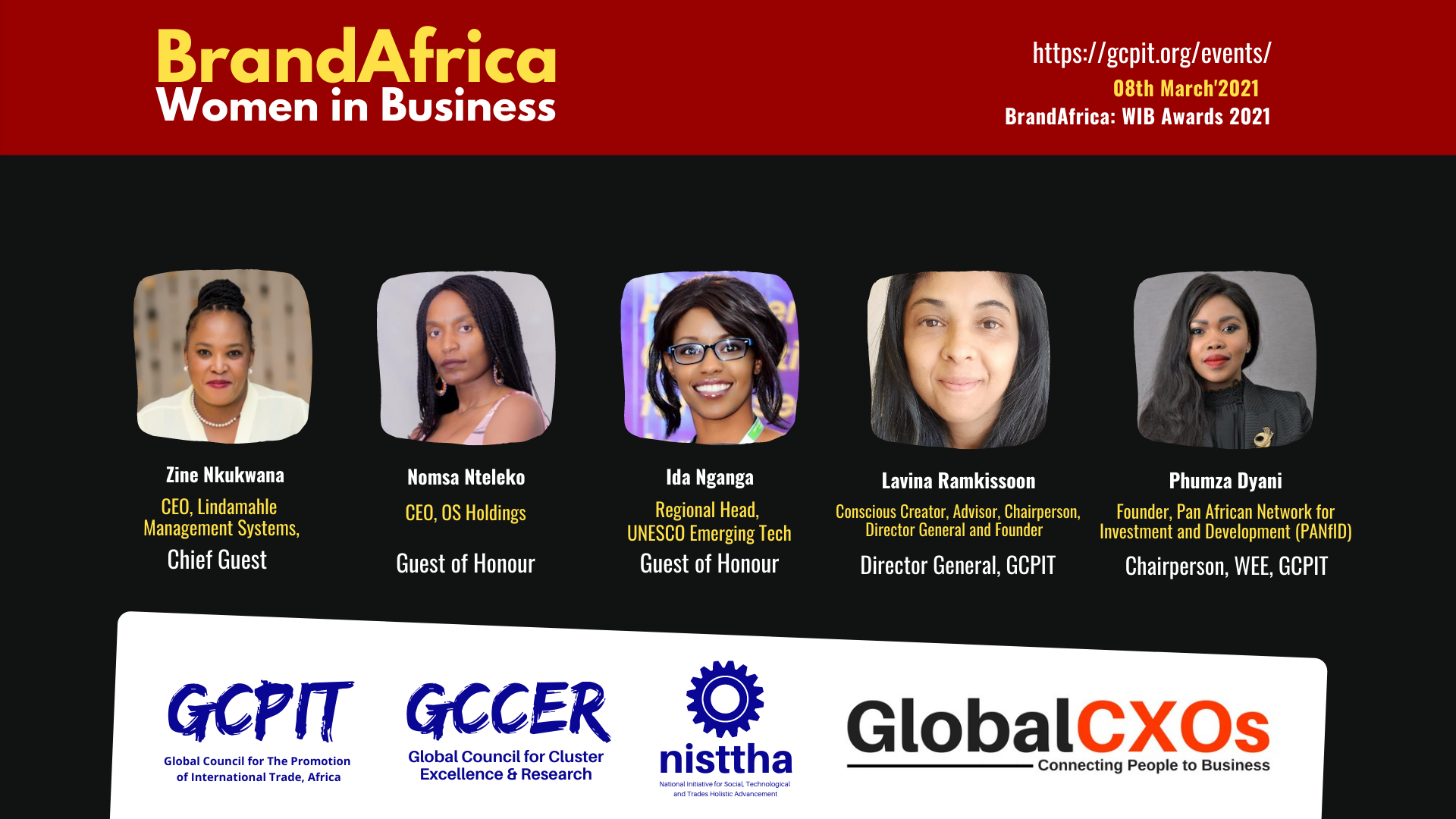 The event was graced by the Chief Guest of the day, Ms. Zine Nkukwana, CEO, Lindamahle Management Systems, and Special Guest Ms. Nomsa Nteleko, CEO, OS Holdings; Ms. Ida Nganga, Regional Head, UNESCO Emerging Tech; Ms. Lavina Ramkissoon, Conscious Creator, Advisor, Chairperson, Director General and Founder; Ms. Phumza Dyani, Founder, Pan African Network for Investment and Development (PANfID).
Global Council for the Promotion of International Trade (GCPIT), Africa celebrated "BrandAfrica : Women in Business Awards -2021" on 8th March'2021 (Virtually) recognizing achievement in women entrepreneur across Pan-Africa.
South Africa – BrandAfrica: Women In Business Awards 2021, supported by Global Council for Cluster Excellence and Research (GCCER) and Globalcxos.com, celebrates successful initiatives across Pan-Africa. A panel of independent leaders, including some of the region's leading women leaders, evaluated nominations submitted by women in businesses in Africa. The judges selected 20 winners.
"I am incredibly impressed with the quality of the nominations we received and the impact these initiatives have on entrepreneurs in the region, especially in these unprecedented times," said Santosh G, Global Chairperson for GCPIT. "Our winners exemplify what can be accomplished when women leaders come together to drive socio-economic change through entrepreneurship that is more than just business."
Ms. Aparna G. Kumar, Global Chairperson, WCombinator, GCPIT added: "It's only because of GCPIT's direct relationship with entrepreneurs that we have insights into these achievements and can celebrate them. We're proud to shine a spotlight on the African women entrepreneurs that is happening across Pan-Africa."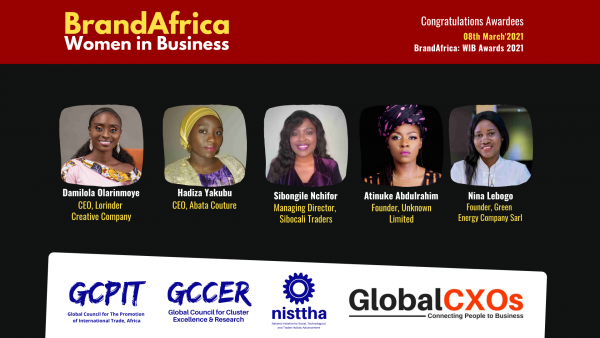 Winners
1. Ms. ELIZABETH OLANREWAJU NWANKWO, CEO, Oklan Best Ltd
2. Ms. Ruqayyah M. Hussaini, CEO, Vivido Schone International Limited
3. Ms. Priscilla Akpason Nwosu, CEO, PRI-Global Ventures Limited
4. Ms. Anne Gaitha, C.E.O, Regal Africa Group
5. Ms. Ifeoluwa Folawiyo, Founder, Tafe Organic Rack
6. Ms. Manyinkeng Noella Nteamah Fonju, Founder, Fonj Shoes
7. Ms. Amede Achingale, Founder, Bosaz Foods
8. Ms. Joy Badaki, Founder, B'kem Foods
9. Ms. Masabata Sebusi, Co-Founder, Sprout Africa
10. Ms. Hadiza Yakubu, CEO, Abata Couture
11. Ms. Damilola Olarinmoye, CEO, Lorinder Creative Company
12. Ms. Sibongile Mtsabe Nchifor, Managing Director, Sibocali Traders
13. Ms. Atinuke Abdulrahim, Founder, Unknown Limited
14. Ms. Kabuki Anyumba, Founder, Scrumptious Eats
15. Ms. Nina Lebogo, Founder, Green Energy Company Sarl
16. Ms. Chinwe Egwim, Senior Economist, FBNQuest Merchant Bank
17. Ms. Anuli Nnadi, Founder, Spicehouse Seasoning
18. Ms. Juliet Ukpabio Archibong, Founder, Adiaha Trading Ltd
19. Ms. Amaka Amalu, Founder, Project LEAD
20. Ms. Egbo Ibukunoluwa, Creative Director, Mieko Michi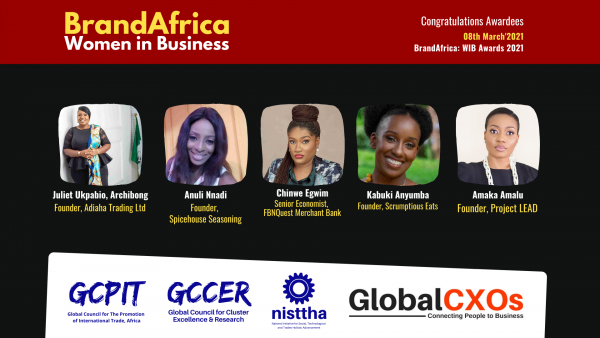 Brand Africa Global Mission is a mission to project the attractiveness of Africa as an emerging destination for business in the fields of the service sector, manufacturing, information technology, infrastructure, information technology-enabled services, etc. The mission to promote both Africa as the market for products and services as well as a destination for investment.
Women Entrepreneurs are inspiring. An entrepreneur is someone that organizes, manages, and assumes the risk of a business enterprise. Today, more women are breaking free from the traditional, gender-specific roles and venturing into the business world. Not only are they holding high corporate positions but they are also successful women entrepreneurs. The steady rise in female entrepreneurs can be due to many different reasons, most of which share the same rationale as their male counterparts—passion for their ideas, the desire to become their own boss, and the need to address philanthropic causes. BrandAfrica: Women in Business Awards 2021 is a celebration of women's power and leadership.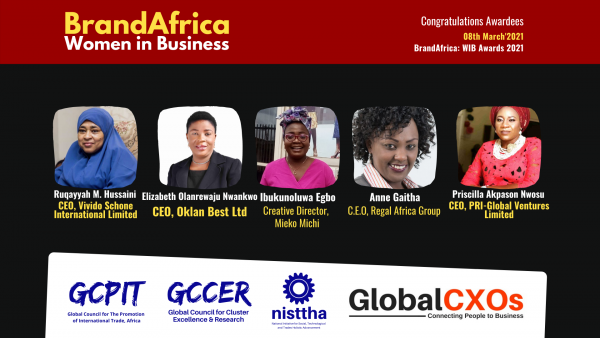 About GCPIT
Global Council for the Promotion of International Trade is an organisation based out of India and South Africa with board & council member representation across the world :
To implement relevant major national development strategies, and promote foreign trade, bilateral investment and economic & technological cooperation; carry forward cooperation with overseas trade promotion counterparts; receive overseas high-end trade and economic delegations.
To organize Global trade and economy delegations to visit foreign countries; manage overseas trade exhibitions organized by GCPIT, participate in affairs of World Expo on behalf of the GCPIT; organize for companies to attend trade and economic exhibitions, forums, fairs and other international conferences; represent domestic industry and commerce in the field of foreign trade, and participate in formulation of trade and economic policies and rules, foreign trade negotiation and making of international commercial rules; carry out legal consulting, commercial conciliation, trade and maritime arbitration; sign and issue certificates of origin for export products and among others
Video of virtual awards program: BrandAfrica : Women in Business Awards 2021
Video Link: https://www.youtube.com/embed/CNR4-_sHMzQ
(C) 2021 Global Council for the Promotion of International Trade. All rights reserved. GCPIT and the BrandAfrica: Women in Business are the property of their respective owners.
Media Contact
Company Name: Global Council for the Promotion of International Trade, South Africa
Contact Person: Santosh G
Email: Send Email
Address:3456 NU 8, Mdantsane
City: East London
State: Eastern Cape, 5219
Country: South Africa
Website: https://gcpit.org