"Sideways Boy" by David Eisenstein Explores School Violence, PTSD and a Survivor's Journey to Redemption
Oct 1, 2019 – Many novels are fiction that does not touch the real world. This new novel deals with bullying, mass shooting, school safety, veteran's issues, and our broken school and healthcare systems. Author David R Eisenstein has ventured into this most relevant of territories with his self-published novel, "Sideways Boy".
Three seemingly separate plot lines converge around the question, "What happens to the survivors?" Eisenstein weaves a story that reads like a collection of headlines gleaned from the newspapers. You will laugh and you will cry as the plot unfolds.
The novel is about Robert Epstein, an experienced middle school teacher, who has been broken by violence around him, and ends up with PTSD. Living in a fantasy world, interrupted by nightmares of the past, Robert is close to killing himself when he befriends a kitten. Inspired by the cat's recovery from a stroke, Epstein starts a journey to reclaim his normal life and face the world again. But that's not the end, for the real world too closely resembles the world of his fantasies. Over the course of one thrilling week, Bob connects with some neglected war veterans to embark on an adventure. Will it bring him redemption or death?
"Eisenstein writes with a witty soul, telling tales of broken men, inquisitive cats, and the in-between," says a recent review of "Sideways Boy".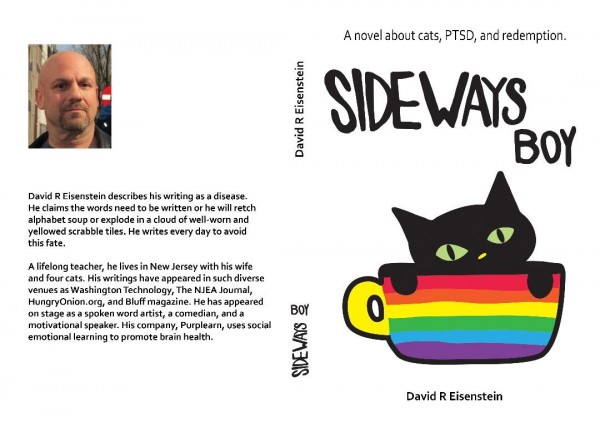 Eisenstein has addressed several important and extremely relevant issues of today with humor and pathos. Published at a time when public school shootings are making headlines, and the educational and healthcare systems appear broken, the novel surpasses fictional territory, and steps into real life.
Illustrated by Margaux Wosk, "Sideways Boy" is available from Amazon in Kindle edition.
For more information about the author, please visit: www.purplearn.com
Media Contact
Company Name: Purplearn
Contact Person: David R Eisenstein
Email: Send Email
Phone: 908-216-8071
Address:348 Bennington Road
City: Freehold
State: NJ
Country: United States
Website: https://www.purplearn.com/